Bamford Primary School is a thriving school at the hub of our local community in the Hope Valley.
Committed parents, hard working staff and motivated children work in partnership to ensure we continue to reach the highest standards across a broad and balanced curriculum.
Bamford School is a Derbyshire County Council Primary School and provides education for children between the ages of 5 and 11 (with some provision for children under 5).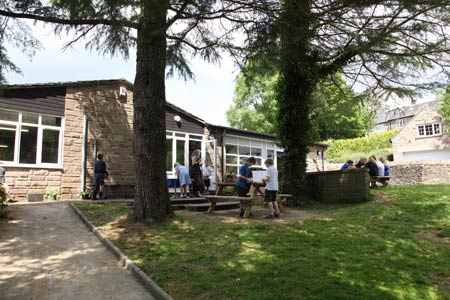 Healthy Schools Blog - written by the children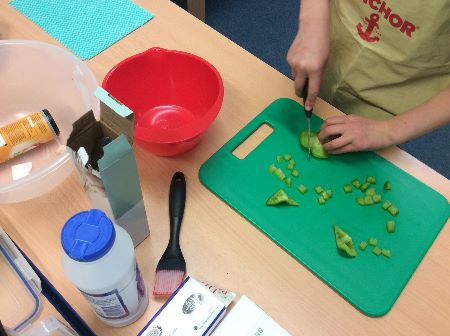 Let's get cooking
Today we made Quorn Vegetable Samosas.
How did we make them?
We had to peel and cut up some vegetables, cook them in the sizzling, popping, party pan. We cooked them for about 5 minutes and let it cool for a while.
Then it was time to wrap!
We used filo pastry which was cut into 3 long strips.
So, we put a teaspoon of mixture at the bottom of the strip, then folded one corner across to make a triangle then kept going up the strip and ended up with a triangle. We brushed lightly with oil and put on a baking tray. Then cooked in a hot oven for 10 - 15 minutes.
We really enjoyed this session.
What else could you put in your filo parcels.???
Term Dates
October 2016

20th

Harvest Festival in Church 1.45pm

21st

INSET DAY

24th-28th

HALF TERM

Autumn 2

31st October

Back to school

November 2016

11th

Y5/6 Mini Basketball Tournament, PM, HVC

16th

Y1, 2 and 3 Flu Immunisations

18th

Children in Need non-uniform day, with donations.

PTFA collection day for school winter fair

22nd

BPS Full Governing Body Meeting 6pm

24th

Y3/4 Mini Soccer competition, 1-3.30pm, HVC

Saturday 26th

School Winter Fair

December 2016

1st

Panto comes to school

13th

Christmas Concerts 1.30pm and 6.30pm

14th

School Christmas Dinner

15th

Class Oak and Beech Christmas Party 1.15pm

16th

Class Ash and Willow Christmas Party 1.15pm

19th

Stories round the tree 1.30pm

20th

Nativity concert at Church 1.30pm

BREAK UP FOR CHRISTMAS

Spring 1

January 2017

3rd

INSET DAY

4th

Back to school

11th

YOUNG VOICES

18th

PTFA meeting, volunteers needed, 6.15pm

19th

Y5/6 Sportshall Athletics competition, 1.30-3.15pm, HVC

February 2017

10th

INSET DAY

13th – 17th

HALF TERM

Spring 2

20th

Back to school

March 2017

10th

Y5/6 High 5 Netball competition, 1.30-3.30pm, HVC

April 2017

10th – 21st

EASTER HOLIDAY

Summer 1

24th

Back to school

May 2017

1st

Bank Holiday

5th

Y5/6 Quadkids, 1.30-3.30pm, HVC

26th

Y5/6 Rounders competition, 1.30-3.30pm, HVC

29th – 2nd June

HALF TERM

Summer 2

June 2017

5th

Back to school

15th

Y3/4 Tri Golf competition, 1.30-3.30pm, HVC

17th

Infants Sports Day, HVC, time tba

19th – 23rd

Y6 Residential trip to Lea Green

July 2017

5th

KS2 Sports Day, EIS Sheffield

12th – 14th

Y4/5 Residential trip to Castleton

20th

Last day in school

21st

INSET DAY
INSET DAYS
Friday 21st October 2016
Tuesday 3rd January 2017
Friday 10th February 2017
Friday 21st July 2017
Quick links
Telephone: 01433 651267
Drama Club video
https://www.youtube.com/watch?v=fKQP-WuElq8
Rocket Seeds!
Class Beech are our Space Scientists and are taking part in Tim Peake's Rocket Seed experiment. This is a national school's project and we are very lucky to have been selected as a school to participate in this. Please feel free to pop in and view their 'experiment.'
Nut and Food Allergies
Please be aware that we have children at school with nut and food allergies. Please do not include any nuts or nut containing foods (e.g. Nutella) in your child's snack or lunch. Help us to keep everyone safe.
Derbyshire Healthy Schools
We are working in partnership with the team at Derbyshire Health Promoting Schools to gain full accreditation as a Derbyshire Healthy School. Recent sessions have include work around
oral hygiene
germs and personal hygiene
exercise and healthy choices
water - and the importance of water in our diet.
If you have any questions, please contact Jen Chapman who is leading this project, along with our School Council.